"The Changing California Landscape" a view of The Great Western Divide from the Generals Highway in Sequoia National Park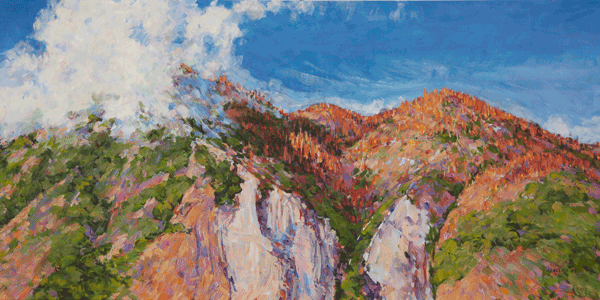 Finally got this painting finished up.
After my "California's Giant Sequoias, Found Nowhere Else on Earth" show ended, I had a color crisis in my life and this horizon gave me the variety I needed. The beetle damage in the California sierras, while sad, is very rich and colorful. I thought of naming it "Before the Fires" but I didn't want to scare you off. California's high sierras will never look the same again.
This is an original acrylic painting © Joy Collier 48" x 24" x 1.75" deep.
10% of all sales of this image will be donated to the Sequoia Parks Conservancy. It is the official nonprofit partner of Sequoia and Kings Canyon National Parks.